professional training program
Flamenco is intimate and personal, each artist must develop their own unique style.
We're currently accepting applications for our professional training program 2023–2026. To apply, please email a letter of interest and your resume. [Minimum intermediate level experience required].
Starting September 1st, 2023, classes run Saturdays
10:00am—1:30pm and Sundays 12:30—2:00pm,
until the end of June 2024.
Flamenco dance involves a technique and discipline no less defined than that required of a ballet dancer. It requires freedom of expression that has parallels in modern and/or contemporary improvisational forms. It also involves the understanding of complex rhythms and musical training.

Flamenco Rosario strives to develop professional dancers with a training and foundation steeped in the tradition of the art form – just like they would receive in Spain – but aims to develop dancers who will stretch, challenge and further experiment in their journey to find their own voice and style.

Our goal is to provide our students with a solid base of Flamenco Dance. We work you hard, but do not work you too fast - truly, learning flamenco is a difficult task. We concentrate on the foundation and provide you with the history and theory of the art form.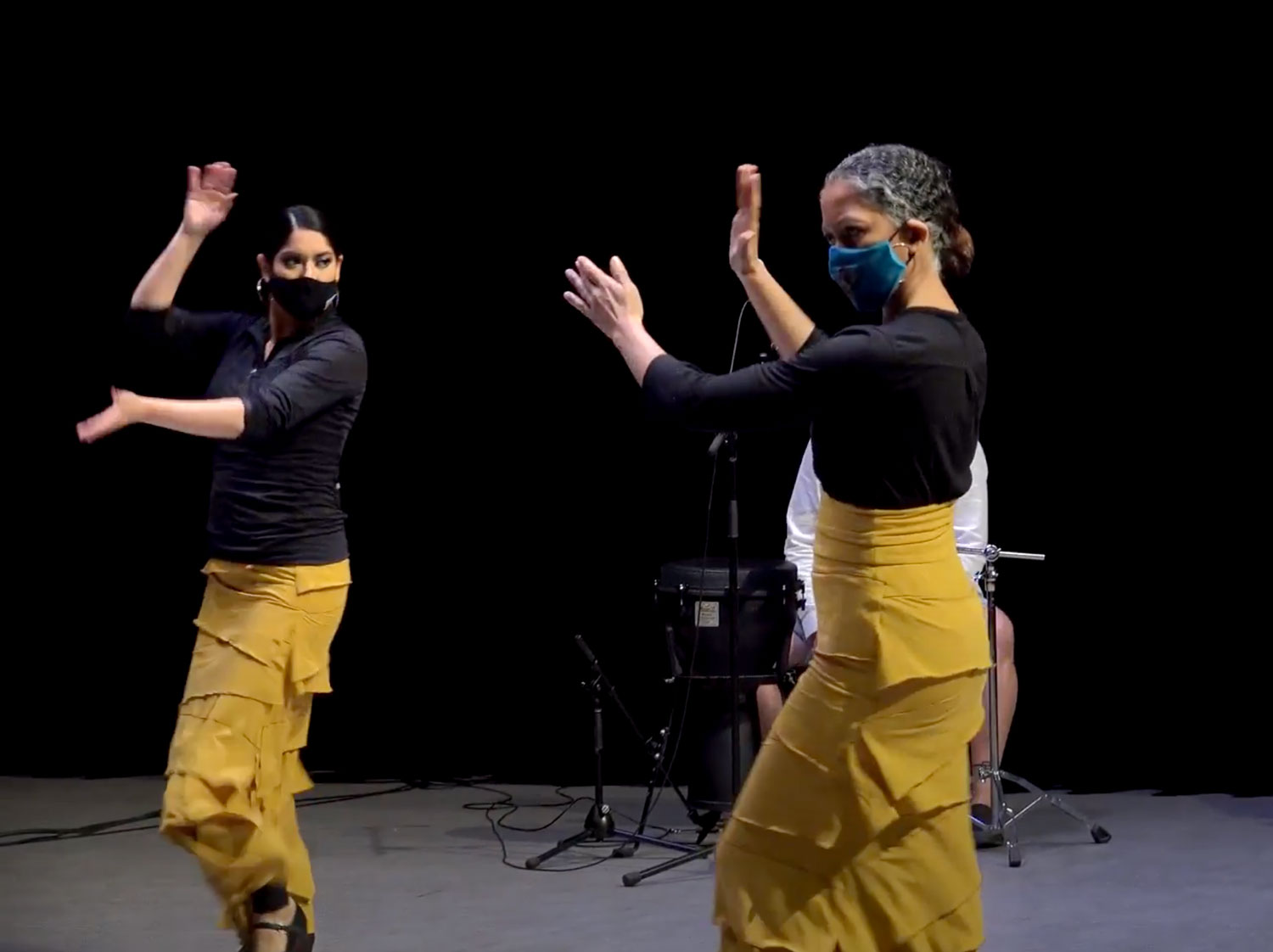 Overview
The Professional Training Program is a
3-year program
.
Year 1, developing a strong base of technique:
Basic technique is taught through the 2/4 and 4/4 times rhythms (8 beat compas), moving to the more complicated 3/4 and 6/8 time rhythms (12 beat compas).


We start our classes with postures and positions from the Escuela Bolera (Bolera school, the approximate Spanish equivalent of French Ballet).


Students work in core strength, balance and the aesthetics they need to dance flamenco.


Floreo (arm and hand work) in the unique Flamenco style (port de bras, wrist and finger movement) with traditional and contemporary rhythmical movement for coordination.


Zapateado (foot work) starts with a series of repetitions of planta (ball of the foot), golpe (sole of the foot), tacon (heel), punta (point), tacon al frente (heel at the front), chaflan (foot slide).


Palmas (handclapping) is an integral part of flamenco; it helps compas and timing, whether they are supporting a performer or incorporating it as a sound in their own dance/creation: all flamenco dancers have to become musicians/percussionists.


Every class will incorporate the use of props: abanico (fan), manton (shawl), castanuelas (castanets), and bata de cola (long train skirt).



Combining these elements to create basic routines always with the flamenco rhythms in mind. There are some traditional footsteps, but basically it is up to the teacher to create their own musical combinations. The better understanding students have of the compas the more comfortable they will feel in creating their own combinations.

Year 2, continues technique training and adds components of choreography:
To work in choreography we choose the next rhythms/dances: Alegrias, Tientos/Tangos, Buleria, Solea and Seguiriya. They give the student the overall understanding of flamenco compas, rhythms, style and mood. The rest of flamenco rhythms/dances derive from these.


Style, feeling, song structure, music appreciation and composition are emphasized.



Improvisation is what flamenco is all about. We learn to put the three flamenco elements together and arrange dances. We combine these elements with the song form and guitar music in mind.




The understanding of the song form, musical structure and the interaction with the dance is what makes flamenco dance interesting and powerful.




There will be a singer and a guitarist accompanying these classes.
Year 3, intensive technical training and more difficult choreographies:
There are many opportunities for dancers in the Professional Training Program to hone their live performance skills by participating in community events, including invitations to perform for fundraisers and multicultural showcases.


Program graduates will be able to perform professionally with local, national and international companies. They may choose to start their own company; they could also choose to teach.